I will share the best thriller movies of Bollywood or best Hindi thriller movies that you should watch now in 2021. Thriller movies are a very popular genre. I personally love to watch thriller movies. People says that the Hollywood thriller movies and south Indian thriller movies are the best. But still there are some thriller masterpiece in Bollywood.
In Bollywood people, prefer to watch high budget movies or mass movies. But most of the thriller movies are low budget but these are masterpiece. If you are a thriller movie fan then you are in the right place. I am sharing the top Bollywood Hindi thriller movies.
Best Thriller Movies Of Bollywood
1. Drishyam (2015)
Drishyam is the best masterpiece thriller movie of Bollywood. But this is a official remake of the Malayalam thriller movie Drishyam. Ajay Devgan is the lead hero of this movie. This movie is directed by Nishikant Kamat in 2015. This is also a blockbuster movie and the best movie of Ajay Devgan.
The story is about a cable provider owner who lives with his wife and two children. This elder daughter murders a IG's son by mistake. Then how he will save this family from the police?
There are many twist and turns throughout the movie. This movie creates tension to its viewers all over the movie.
2. Andhadhun (2018)
Andhadhun is one of the best Bollywood thriller movies ever made. This movie has the higest ratings in IMDB. This is a 2018 movie starring Ayushmann Khurrana, Tabu, Radhika Apte directed by Sriram Raghavan. Andhadhun was made in 32 Crore budget and collect 456 Crore from the box office. So this is the another blockbuster thriller movie as well as masterpiece.
The story based on a person who pretends to be blind. But one day he show a murder of a famous actor in his house. The wife of the actor was the murder him with a police officer. But she came to know that the man is not blind and she try to kill him.
3. Gumnaam (1965)
Gumnaam is a cult classic ever green Bollywood thriller movie. This movie was released on 1965. Don't judge the movie by its age. This movie stars Manoj Kumar, Nanda, Helen, Mehmood, pran. You can enjoy this movie in 2021 because the thrill and the unexpected climax. This is a old masterpiece.
Asha wins a foreign trip with six other. There was 5 mens and 2 womens. But the plane suddenly lands in a island and leave them in a island. Suddenly they hear a mysterious woman is singing a song. They follow the sound and come in a place. There was a servant played by Mehmood who was there for welcome them. They stay in this place. But from the second day one by one are murdered. Now who is doing these murders. You should watch the movie.
4. Kaun (1999)
Kaun is a psychological thriller movie of 1999. This is the best psychological thriller movie of Bollywood starring Urmila Matondkar, Manoj Bajpayee, Sushant Singh. This is the best work of Ram Gopal Verma. This is a low budget movie and there are only three characters. But you will engage with movie and fill the thrill.
In a rainy night, there is a woman alone in a big house. She shows the news which warns about a serial killer. Suddenly a mysterious man comes and enters in her house. He was a psycho. Now enjoy the story from here.
5. Pink (2016)
Pink is a social thriller or crime thriller movie of 2016 starring Amitabh Bachchan, Taapsee Pannu, Kirti Kulhari. This movie is also a landmark Bollywood thriller movie in Hindi.
In this movie three women commited a crime. Then a old retired lawyer came for saving them. The story is very interesting. This movie has been remade in Tamil also.
6. Mickey Virus (2013)
Mickey Virus is a very underrated Bollywood cyber crime thriller movie. As you know Monish Paul is the lead hero of this movie. The hacking which is shown in this movie may seems like spoof but the thrill and mystery are awesome. You should watch this movie.
When Delhi police are investigating a cyber crime case they seeks help of a computer expert or hacker. They come to Mickey, the lazy hacker. Mickey helped them. But he gets in trouble because of his girlfriend. Now see how Mickey and his friends will overcome the problem.
7. Shree (2013)
Shree is a science fiction thriller movie of Bollywood of 2013. This is one of the best science fiction thriller movie of India also. Hussain Kuwajerwala, Anjali Patil, Shivani Tanksale are the lead characters. Shree is a very underrated thriller movie in Hindi.
Shree is an ordinary man who works in a telecom company. He is in love but he cannot marry her for the financial problems. But he involves in a scientific research. Problems begin from here. Now what are the problems, what is the research about, how he will comes out from it. You should watch this movie for knowing all these things.
8. Table No 21 (2013)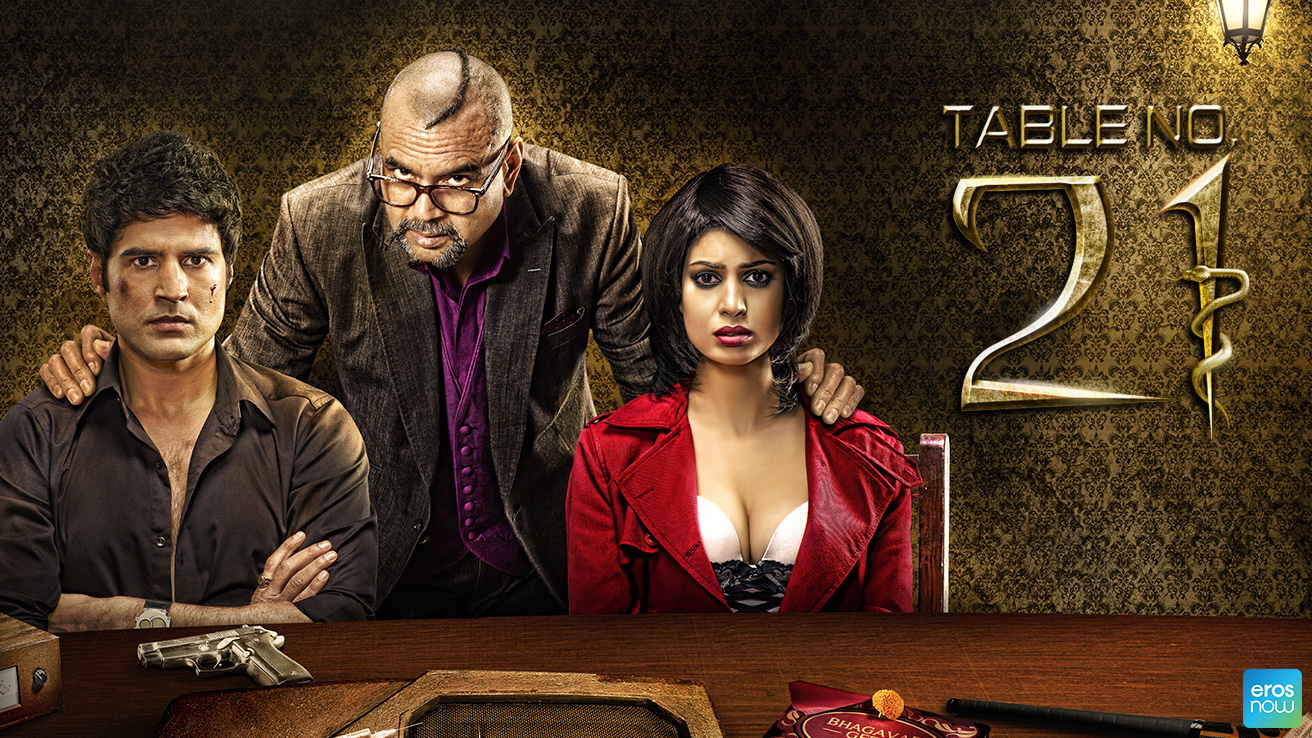 Table No 21 is also a psychological thriller movie of 2013 in Bollywood. Nobody tells about the movie. This is an outstanding thriller movie which will engage you through 2 hours. You can feel the emotions the thrill with this movie. Paresh Rawal, Rajeev Khandelwal, Tina Desai are the main characters of this movie. The acting of Paresh Rawal is awesome and horrible in this movie.
A couple win a trip. There they start playing a game named Table No 21 which is hosted by Paresh Rawal. The game soon turn into more than survival. and they cannot escape from the game.
9. Yeh Saali Aashiqui (2019)
If you recently have a break up and you need a movie which will give relax from the pain, then this is the best movie for you. This is my personal favourite movie of 2019. Yeh Saali Aashiqui is a revenge thriller movie of 2019. The screenplay, acting, cinematography was awesome. Most of the actors are the young stars of this movie. Vardhan Puri, Shivaleeka Oberoi, Ruslaan Mumtaz are the lead characters here. This movie is available in Amazon prime and YouTube.
In college Sahil and Mittee love each other. But gradually Sahil knows the real character of Mittee. After an incident the two lovers become two enemies.
Conclusion
The all movies above are best thriller movies of Bollywood. If you notice most of the movies are not successful. So most of the thriller movies are made before 2016. There are also many underrated movies which are made in low budget but till these are awesome. Content is the king. For a thriller movie the content is the everything.